Welcome to our latest creation, the Hand Picked by Knit Picks subscription boxes. Would you look forward to receiving a monthly package complete with the finest yarn, patterns, tools, and accessories? Well, then look no further! Each month the Knit Picks crew will hand pick knitting projects, along with everything you'll need to complete your project. Wait there's more! We have 3 different types of boxes so you can choose the subscription that fits your knitting needs/wants.
Interested in receiving a Hand Picked by Knit Picks box? Here is a detailed guide to help you discover which subscription box is right for you, and what you will possibly be able to do with them. After all, these subscription boxes are a surprise so you will never know exactly what you will be getting – but isn't that the fun in it too? Every box has approximately $60 worth of Knit Picks merchandise – We promise it won't disappoint you!
Choosing your subscription
Are you stuck in a knitting rut? Feeling like you do the same patterns, and gravitate to the same yarns and colors? Then give these subscription boxes a try! Our subscription policy is super simple: try it for one month, or if you're a savvy knitter you can save some $$ and prepay for 3 months. That's it! Currently we have 3 different types of subscriptions to fit your knitting needs. The Skill Builder, Sock Yarn, and our Fan Favorites box.
Skill Builder
Ready to expand your skills? You've conquered knitting and purling, learned to knit in the round, and now it's time to expand your skills. Each month will feature a new skill for the confident beginner to conquer, and will include at least 100g of yarn, a book or pattern, and the tools to complete your project.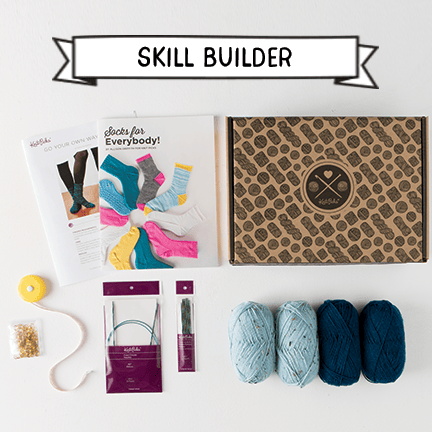 Sock Yarn
Are you a sock yarn lover? Not just for sock knitters, this box is for anyone who loves to knit with sock yarn! Each month you'll receive at least 100g of sock yarn, one sock pattern, and one accessory pattern – plus assorted Knit Picks needles, tools, and/or other goodies.
Fan Favorites
Get the very best of Knit Picks! Discover the latest and greatest Knit Picks yarn, needles, tools, and other fun surprises in this box! Whether you're a Knit Picks super fan or you've just discovered us, you'll love receiving brand-new items and best sellers every month.
Now what are you waiting for? Sign up today and start creating! Subscription boxes come with free shipping to anyone with a US address. Don't forget to show off your new yarny goodness! Use the #handpickedbyknitpicks on Instagram or Facebook and connect with other yarn lovers like yourself. We are always expanding and creating new things for our loyal customers so if you have an idea for a subscription box that you'd like to receive, comment below and let us know You never know; it may just pop up next month!