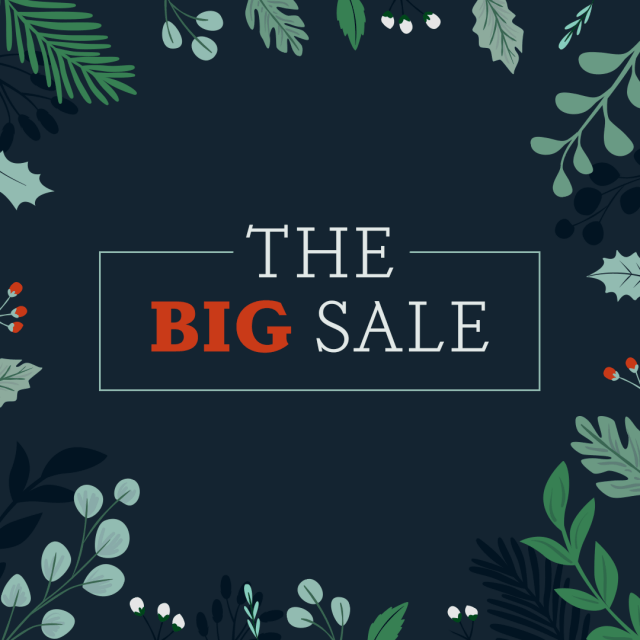 Get ready to clutch your purls, folks—the Big Sale has landed! As such, this post is naturally going to be information overload. Do yourself a favor and grab a fresh cuppa, your favorite cozy blanket, and settle in for a wild ride! Here. We. Go.
First up…
Big Sale: it's a mood
Moving on to…
Limited Edition Yarns
Daydream Alpaca
The downiest yarn we've ever had! Alpaca fibers are blown into a fine, silky mesh to create skeins that are super soft and light as a feather. Knit Daydream at a tight, dense gauge for ultra coziness or at a loose, open gauge for fabric that lets air in and keeps those warm vibes in. We recommend this yarn for light textures and simple garter or stockinette stitches where the stitches can really shine. Daydream features all the shades of an epic sunrise as well as some delightfully natural hues, perfect for projects that make a statement.
Alpaca Bloom Lace
A gorgeous halo from superfine Alpaca and a subtle sheen from Nylon makes for a gorgeous (and affordable!) lace-weight yarn. Wrap yourself in large fuzzy wraps with Alpaca Bloom worked on it's own, or hold it alongside another yarn to lend it's characteristic halo to heavier weight projects. For pattern suggestions, you can substitute Alpaca Bloom for Aloft in patterns, including our favorites in the Better Together: Marled Knits collection.
Arcadia DK
Tweed, Merino, Alpaca—oh my! A trifecta of soft fibers and gorgeous textures, Arcadia checks all our crafting boxes. Merino wool brings a slight spring to each stitch while the Alpaca elevates the coziness throughout. Arcadia is perfect for mid-weight accessories and garments; you can't go wrong with these gorgeous subtly shifting colors in each skein. Try textures and cables where the tweedy flecks and saturated colors can shine.
Alpaca Amour Fingering
Alpaca Amour is a soft, light, and amazingly warm fiber made of 100% Superfine Alpaca. Alpaca is our favorite fiber for cozy projects with a lovely soft fuzz and a flowing drape characteristic of all yarns in this lovely and luxurious family. A great alternative for crafters sensitive to wool, choose Alpaca Amour for detailed shawls, fine garments, and the softest mittens you've ever worn.
Revere Worsted
We've found the peak of luxury with these gorgeous alpaca fibers in lovely autumnal colors. Revere's worsted weight makes it the perfect choice for cozy mid-weight garments, including cardigans and pullovers. With alpaca's traditional drape, you can make gorgeous shawls with large lace motifs or bold textures as well.
Sequence Bulky
The ultimate quick & cozy yarn, Sequence is a technical marvel! We've done away with a traditionally twisted ply this time around in favor of the subtle texture of a chainette structure. This means that projects made with Sequence will have bold stitches and be extra warm, as this unique structure traps warm air next-to-skin. We recommend whipping up chunky hats and sumptuous cowls or scarves with your favorite colors. Psst … this yarn is great for last minute gifts!
Stroll Glimmer Sock Labs – Nightfall Edition
Transport yourself to the glittering night sky of an Arctic wonderland with our limited edition Stroll Glimmer Sock Lab colors! Hand painted colors play upon a sparkly base of Stroll Yarn, giving you results that are truly out of this world.
Stroll Glimmer is perfect for easy care garments & gifts that require a little sparkle.
Felici – Fingering & Worsted!
Everyone's favorite self-striping yarn is back, in both fingering and worsted weights! The superwash merino in this blend measures in at 19.5 microns (layperson's translation: super-duper soft). Plus, the machine washability means you will be wearing them constantly. Have fun playing with the stripes in other small projects like hats, mittens, and baby clothes. For socks, make sure to pick up a pair of skeins. Felici colorways are also limited-time offerings; when they're gone, they're gone!
Indie dyers, get ready to fire up those dye pots. Six new, limited edition Bare Yarns are here and waiting for your chromatic creativity!
Random Cuteness
List makers and sticker collectors, rejoice! We have a fresh batch of cute nifty gifty items for you and your crafty friends to enjoy.
Phew. And there you have it. Anyone ready for a nap now? Just kidding.
Happy Big Sale!