I've gotten so much in the habit of knitting socks that I have forgotten that hats have many qualities that make them ideal, portable projects.
While we were out to dinner the other night, one of the waitresses reminded me that I had promised her a hat for winter. Yikes! Thank goodness I just received a review copy of Weekend Hats. 
Another nudge for me to get started knitting hats was my remembering that Elizabeth Zimmermann liked to knit hats as swatches. But, I don't really want to knit such simple hats. Cecily and Melissa have provided me with a selection of stylish hats for our favorite waitress and I can pick out something for myself to swatch for the cardigan that has been on my To Do List for way too long.
The very first hat in the book – the Plait Beanie – looks for like an a-symetrical cloche. It is knit in bulky weight wool, but I think I could adapt the pattern to worsted weight so I could use it as the swatch sampler for my cardigan.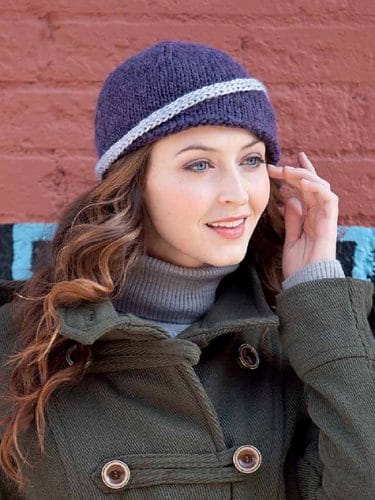 The restaurant that Bob and I frequent is outdoors. It is covered but it is in a valley and it can be quite cold during the winter. They have heaters for the customers but the staff tends to bundle up a bit. So, our waitress is going to want to wear her hat at work. I'm thinking the Semolina Earflap Hat. It is pretty and very practical. 
I know that men can be a bit of a challenge when it comes to handknits but I find that men ask me for hats a lot. Ski hats, surfing hats, camping hats, etc. I love being able to fulfill the request quickly. That is why I was happy to see "guy" hat in the Weekend Hats collection. I can choose from the Wanderer Hat, Hued Toque (shown below) for a skier or the pebbled Beanie.
Hats are also a fun way to explore new techniques or shaping methods. The Evergreen Beanie (shown on the cover) and Greenery Beret (shown below) have lovely lace designs. 
Cables are dramatic details. The Glashutte Hat has an overall cable pattern that flows into the decreases. The Drift Toque is very intereesting because it is knit from side-to-side with meandering cables. The Solitaire Beret (shown below) is knit in reverse stockinette to highlight the single plaited cable.
The Welted Toque (shown below) features a new take on a classic stockinette cap. The three, narrow side welts create an asymmetrical shape. The Layered Clocke utilizes short-row shaping for a chic, asymetrical look that covers both ears. 
The comprehensive technique section at the end of the book means that you have everything at your fingertips to knit a hat over a weekend.