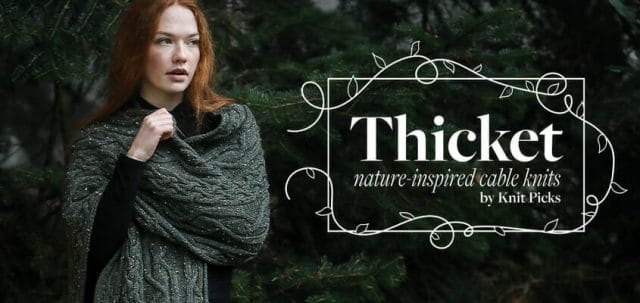 Here at Knit Picks we've made a tradition of starting the new year with a large cable collection. I'm not going to lie, these collections have always been my favorite to work on, from start to finish. When conceptualizing our first collection of 2022, I took inspiration from literally right outside my door – the earthy colors and beautiful trees of the Pacific Northwest.
And designers delivered on my vision – from sweaters to wraps to small accessories, the submissions we received for this collection went above and beyond my expectations. Narrowing the patterns down was difficult – we could have easily included twice as many. A little behind the scenes nugget: this was by far the longest editorial meeting we have had for choosing patterns to include, with many passionate opinions on all of the designs.
Finally, after narrowing down the selections, we ended up with 15 patterns and designers, each including stunning and unique cable designs. From Neisha Abdulla's twisty Brushwood Wrap to Anni Howard's classic Slalom Pullover to Tina Spencer winding Country Crossroads Scarf, all of these patterns will want to get you out and exploring the natural areas of your own hometown.
For the photoshoot, we choose what is one of my favorite places in all of Portland – the Hoyt Arboretum. I have spent many happy hours exploring, hiking the trails, and generally just marveling at the trees. We could not have found a more perfect area to encapsulate the theme of the collection. We all drove up there on an early morning foggy day and captured all the wild beauty of the area – even if was a very cold morning. Everyone was happy to have these wooly pieces to model.
Equally important to me was that each of the garments included extended sizes and gender neutral options. We wanted to make sure that every cable lover could find their perfect project. Designer Todd Gocken went one step further and and adapted his stunning Erme sweater to include both a pullover and zip up cardigan options.
The final result was a collection that we are all immensely proud of. I hope you will enjoy Thicket: Nature Inspired Cable Knits and I'm excited to see all the projects that are sure to come from these beautiful patterns.
Find the entire collection here