What better way is there to experience the countryside than a good old road trip? Well, if gas prices are prohibitive, you can bring the countryside home with you with our Road Trip Tote kits!
These three kits capture the spirit of place with brilliant intarsia panels. So pack up the car and let's go!
First, we'll head to the coast and check out an icon of America's rocky shores – the lighthouse!
The Harbor Light tote celebrates that sentinel of the seas, and the first thing to greet many a mariner. Having grown up near many lighthouses, I met lots of people who were driving up the coast to see them all. Now, you can bring one home with you!
Next on our trip, we need to head off the beaten path a little.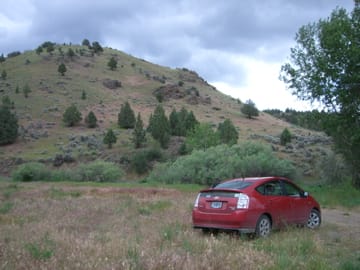 (Roads? who needs roads?)
We're heading to the Badlands!

Found all over the country, the Badlands showcase the awesome power of nature and erosion. No matter where you are in the country, it's worth seeing them at least once – they are truly breathtaking!

On the way home, there's almost a guarantee that you'll pass through the fertile fields of this country's Heartland.


Nothing quite portrays the vastness of our country like the miles and miles of rolling green patchwork of our nation's farms and ranches.

All three totes have plain garter stitch and stockinette stitch backgrounds with a separately knit intarsia panel that has incredible detail. Perfect for the seasoned colorwork knitter, bring your sense of adventure into your knitting with these awesome totes! So, where are you going this spring?