We took a walk down memory lane for our newest collection! Last week, we released our first ever Best of Knit Picks Collection, gathering some of our favorite pullover & cardigan patterns from over the years. This was a lot of fun for me, since I'm now one of the old-timers (10 years here this week!), and I remember when a lot of these patterns were originally released.
For many of these, we opted to update them with fresh colors. One of my favorite patterns has always been the Shaded Pullover and its gradient color shifts. Rather than the pretty neutral in the original, we decided to go with gorgeous shades of purple.
Knit in Wool of the Andes Worsted, this is a perfect project to customize with your favorite colors! We can see this in shades of blues or reds – or even yellows. With 100 colors, it's easy to find your favorite color shift. And this is a great first sweater project too – it's worked in simple stockinette stitch from the bottom up with light shaping. The striping is simple too, using single rows of striping, which results in fewer ends to weave in.
Not only is the Best of Knit Picks: Pullovers & Cardigans our first best of collection, it's also our largest. It clocks in at over 200 pages, which is nearly double our typical collection! Why is that? Well most if it has to do with our ever popular Dogwood Blossoms Sweater! It's been so popular since it was released over 10 years ago that we've reknit it multiple times, and in this collection, we've included all the charts for the Midwinter Version, the Autumn Version, and our brand new North Sea version.
Naturally, we had to include some of our more recent favorite patterns, including the cover sweater Harley and the unstoppable Professor Meow, also in an a new color!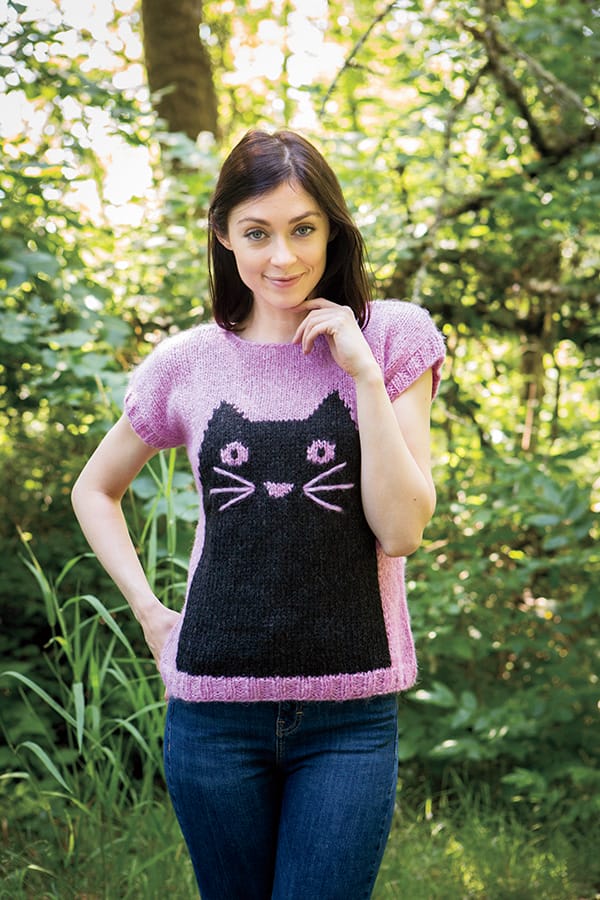 This adorable sweater is always top of our list! Super soft and light, this is a wonderful sweater for every cat lover. Not coincidentally, we also have "cat inspired" colors of Wonderfluff, so you can match your favorite feline friend.
That's only a small taste of this lovely book! Nearly all of these sweaters also have extended sizing – from XS to 5X – so there's something here for everyone. The Best of Knit Picks: Pullovers & Cardigans is available at a special price of $17.99 for the softcover and $14.99 for the eBook. You can also purchase the updated versions of all of these patterns on the site as well. And stay tuned for more best of Knit Picks books to follow in the future!