Mighty Stitch is here! An easy-care yarn with 20% Superwash Wool and 80% Acrylic, this yarn is perfect for garments, accessories, and blankets in a wide range of gorgeous hues. Need some inspiration? Here are some staff projects and patterns to get you started with our new favorite yarn!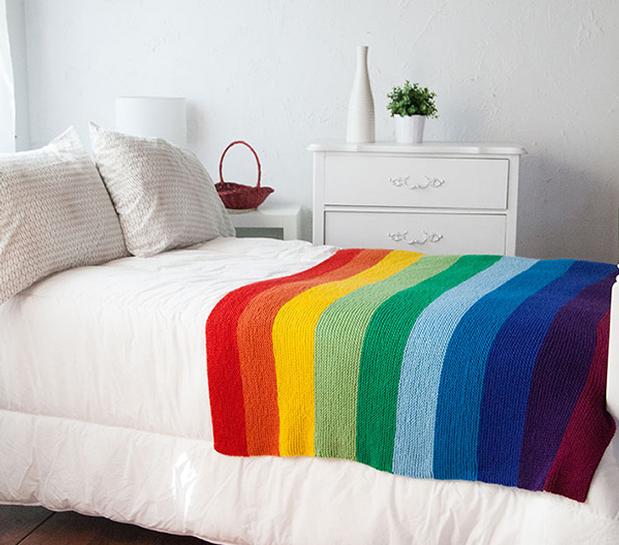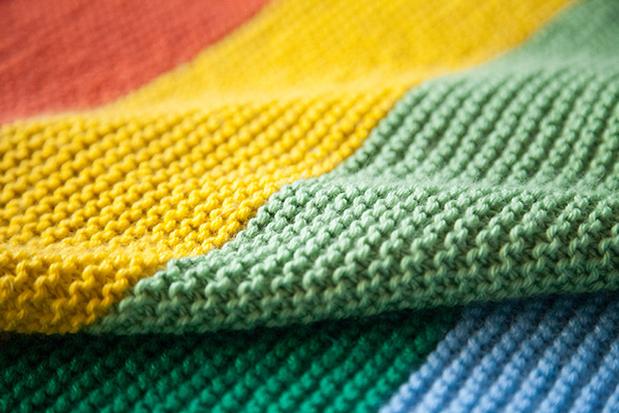 Say "HELLO!" to Alison's gorgeous Mighty Rainbow Blanket! Size 9 needles and one ball of each color makes this an incredibly quick and squishy knit. Shown here on a twin-sized bed, this blanket is perfect for cuddling on the couch or wrapping up with a book in bed. Plus, it's machine washable making this project a great gift for people of all ages. Think it can't get any better? The Mighty Rainbow Blanket is now a free pattern on our site, so grab your needles and get to work!
Next up, I'm working on a staff project in incredibly bright Pucker! Heidi's Darling Blanket in our Tucked In collection has just been waiting for the right yarny excuse for me to grab a crochet hook and the wonderfully soft Mighty Stitch is just the crafty nudge I needed. The only alteration I've had to make to this pattern was to increase the number of repeats because I won't be able to block this yarn as aggressively as Wool of the Andes. So far I'm in love with this project and I've been getting tons of attention every time I pull it out of my tote bag at the coffee shop. We joke that I need a pair of sunglasses to save myself from a yarn version of snow-blindness from the pink glare!
Lastly, Jenny made this super cute Flying Geese Knit Baby Blanket with 3 balls each of Navy and Cream, and 2 balls each of Mint and Canary. Just in time for her friend's new baby, this project is the one that got me excited about doing my own blanket. The best part? She doesn't even have to include special washing instructions! Just pop in the wash machine on gentle and the garter ridges will come out even softer than before.
Do you have any new projects in mind for this fun new yarn? Let us know in the comments!
Links!
Mighty Stitch
The Mighty Rainbow Blanket
Darling Blanket
Flying Geese Knit Baby Blanket