Participating in the 52 Weeks of Dishcloths has been an adventure.  Trying new stitch patterns on a small scale fits with my crazy, busy life.  I decided that a spa cloth, with a lacy pattern, would be fun to try using Dishie.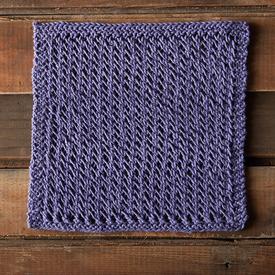 I'm not very savvy when it comes to knitting lace.  Let's face it, I run and hide rather than tackling a lace scarf or shawl. If I drop a stitch or loose my place in the chart, well the whole project is a goner! It goes right into the WiP box!  But this pattern is so different. The simple lace pattern was easy to remember, great to work with, and hey, no dropped stitches! The texture is light and airy though it also has good structure. It's a perfect first lace project, but still enjoyable by the seasoned knitter.
This spa cloth would be a perfect touch for a spa gift basket for that special someone. I'm planning to make them to give along with a bar of homemade soap.
Find the free pattern here:
Lacy Spa Cloth