Yarn Value Packs are a great way to get a color curated pack of your favorite yarns at a discount, but what do you make once you have one? Here are some knitting pattern ideas to use with some of our newest Value Packs:
Stroll Tweed Value Packs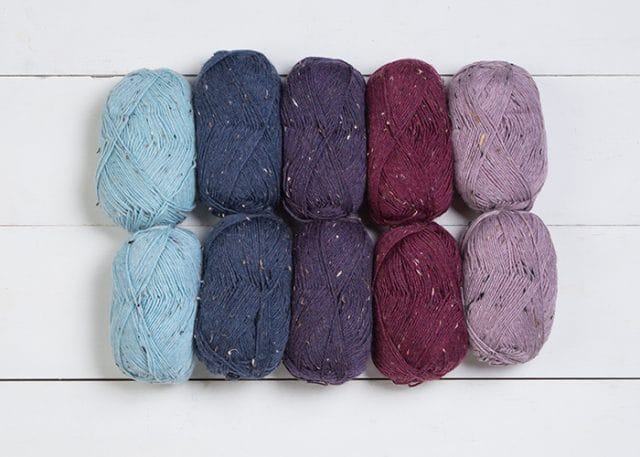 Stroll Tweed is perfect for gifts because of its machine washable convenience, not requiring special care on the part of the recipient. The rich, solid colors show off texture, lace, and cables. The neutral neps of tweed add flecks of interest to simple stitches and textured knits, but are subtle enough to accentuate rather than interfere with all but the most complex patterns. The understated neps also work well with striping, Fair Isle, and stranding, bringing a unifying element and additional texture to colorwork.
Use these color-curated Value Packs for:
Use your Stroll Tweed value pack to make a Glen Cottage Cowl or a pair of Chatter Lane Socks. Other great options are the Autumn Harvest Slouch Hat, Piney Tweed Hat, Ebullience Hat, or Michelina Shawl.
City Tweed DK Value Packs
We've curated a bunch of great City Tweed DK Value Packs, in Berry, Green, Greys, Neutrals, Rainbow, and Pastels, so you're sure to find a color palette that speaks to you. City Tweed DK is one of our favorite tweeds, featuring the softness of alpaca with the texture of tweed.
If you're buying one value pack, you can't go wrong with these knitting patterns: Equalization Hat & Mitts or Shoals Hat (shown above). Other great options are: Perennial Beret, Mossy Cable Mittens, or Chalcedony Mitts.
If you buy two City Tweed Value Packs, try fade versions of Cozy Sweater, Banú Wrap, or the Liana Cardigan.
Alpaca Cloud DK Value Packs
Alpaca Cloud DK is a soft, light, and amazingly warm fiber made of the finest grade of 100% Superfine Alpaca. Perfect for garments intended to be worn next to the skin, or special cold weather accessories. Try these knitting patterns with your value pack:
Free patterns: Twisted Rib Hat & Mitts or Columns Scarf.
Aloft Value Packs
Luxuriously soft, light, and airy, Aloft is a dreamy blend of 72% mohair and 28% silk that you will want to knit with again and again. The silk provides a radiant core that shimmers and shines through the soft halo of the mohair, while adding a beautiful drape and texture to any shawl, stole, or scarf. Whether you use this yarn on its own or as an accent, you will find Aloft to be a versatile yarn perfectly suited for any project, big or small.
Use your Aloft value pack to make a light-as-air sweater or wrap like Alize, Cygnus, or Timeless Pullover.
Use Aloft + Another Yarn:
Try holding Aloft doubled for a denser fabric, or along with another yarn for surprisingly warm cardigans or wraps. Here are some patterns that use Aloft held with another yarn:
Sorrel and Riant are both made with Aloft held double with Hawthorne. The Double Checker Pullover uses Stroll Tweed along with Aloft.
Best of KP Bare Sock Yarns Value Pack:
We've rounded up some of our favorite sock yarns for this value pack! Each yarn included is in its undyed natural state, making it an ideal neutral as is or the perfect canvas for your own creative color experimentation. You can dye this yarn or use it as is.
Try these collections:
Naturally, for sock yarn, we recommend sock patterns! You can't go wrong with the patterns from Simply Socks or Splendid Soles.
Best of KP Bare Luxury Yarns Value Pack
Indulge in a luxuriously curated collection of our fanciest fibers, each destined to please your finer senses. Sumptuous silk, airy angora, lofty alpaca, and marvelous Merino await you in this collection of pristine, undyed fibers. As with the previous pack, you can use these yarns bare or have fun dyeing them yourself.
Serendipity, our latest luxe collection features several accessory patterns that would work with the yarns in this value pack. Try Piccolo Fingerless Gloves in Gloss Fingering or the Mozarab in Paragon.
As you can see, Yarn Value Packs are a fun way to try out new yarns or get a fresh color palette to play with, as well as saving 20%! Did you see any patterns or yarns you'd like to try?