Giveaway is now closed – we'll announce the winners soon!
We hang our heads in shame.
Yesterday (October 29th) was National Cat Day and we completely missed it. I would normally take any opportunity to yak about kitties – either about my own or the cats & kittens I hang out with when I volunteer at Pixie Project.
Well even if it is a few days late, I thought I'd share a few of my favorite kitty related crafty things anyway!
So it's pretty obvious I was really excited about our new little design that Heidi created – the Yarn Kittens!
We have these little kitties on buttons, tote bags & project bags and they are just adorable.  I am currently wearing my kitty button at work today in fact!
Another kitty project I've probably mentioned before is Angela Modzelewski's adorable Kitty Cat Hat & Mitts.  I just love it – I even made a set for my niece a year or so ago. It might be a little late for your Halloween costume but I think these are adorable for any time of year.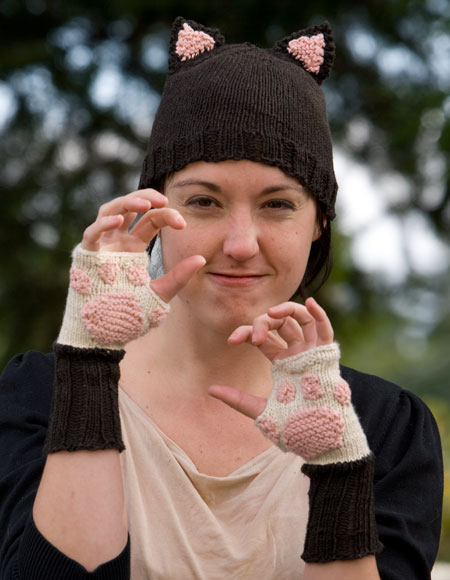 Finally, we have a couple of adorable books for serious cat lovers – Knitted Cats & Kittens by Sue Stratford and Knit Your Own Cat by Sally Muir & Joanna Osborne.
Both of these books are sweet & funny – perfect (or maybe purrrrrfect) for all cat lovers or, especially this time of year, gift ideas for any kitty lover on your list.  I love making little toys so, in flipping through these books, I've earmarked several I want to cast on immediately.
In fact, I have an extra copy of each of these books that I would love to give away to a fellow kitty lover.  Leave a comment on this blog post, telling me about your kitty (or if you don't have one, a favorite cat you know).  I'll randomly draw 2 winners who will each win one of these books!
Rules: One entry per person. Must have a US or Canada mailing address. No purchase necessary. All comments must be posted on THIS blog post. Comments on other blog posts or on social media sites (Facebook, Twitter, G+, Ravelry, etc.) will not be valid for this contest. We will close the comments at 7am PST November 4th) and select a winner soon after!
As a note, don't worry if your comment doesn't show up right away – because of not-very-nice spammers that slip through our filters, we need to approve each comment. So there might be delay, especially over the weekend – but don't worry, we'll get your entry!