I've worked behind the scenes on every one of our collections and I thought I'd give you a peek behind the curtain of what goes in to putting them together.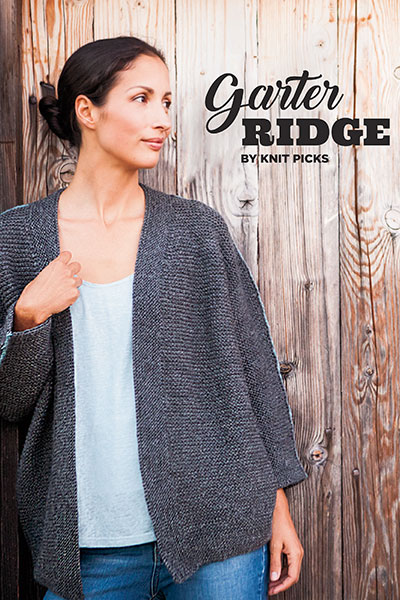 Our newest collection, Garter Ridge is my all time favorite collection that we have produced so I'll start with that! About a year before the collection is released, the entire KP staff gets together to decide on upcoming collections (yep, we work that far in advance). We throw around ideas for awhile – styles we have seen getting popular, things we think our customers would love, yarns and techniques we'd like to see more patterns in, and projects we love personally. For Garter Ridge, several of us (myself included) love using garter stitch in interesting ways so it seemed a natural choice for a collection.
We then start pinning images of the type of patterns we'd like to see on a private Pinterest board – and from that we decide if it should be all garments or all accessories or a mix. Once we feel we have enough ideas, we pick a color palette and put together a mood board to send to independent designers. This is intended to inspire designers and give them a sense of the type of projects we are looking for.
I send this out to all of the IDP designers as well as previous collection designers and other interested people. I also post it to Ravelry in the Designers Forum, so everyone has a chance to submit. Included with the moodboard are instructions on how to submit, how the submission should look and important due dates.
Once submissions are closed, the KP staff gets together again to go through all of the submissions and try our best to narrow them down – usually between 6-10 for small collections, 15-20 for larger ones. It tends to be the most difficult part of the process, where we will often have 200-300 or more submissions. I print them all out and we play mix and match with them – looking for projects that catch our eye and fit with our original ideas. We narrow the stacks of submissions down over and over again, with each team member fighting for their favorite projects while making sure the projects look great together. These tend to be very long meetings!
One of my favorite designs in the book, the Carkeek Park Pullover, was one of our first picks. We've worked with Allison Griffith quite a bit and her proposals always look great.
You see that Alison has a great idea, with a drawing of her sweater and a swatch of how the garter yoke should look, plus a clear description of what she intends for the construction of the sweater.
Once we choose the patterns – for this collection, we went with 8 patterns, 6 garments and 2 accessories – I contact the designers to work out the contract and figure out what materials they need to write out their pattern. Then I sadly need to email all the designers of the submissions we couldn't choose, which is never my favorite part.
After Alison and the other designers send in the final pattern, the KP staff gets together again to decide on the final colors. Sometimes we use the colors the designer suggests in their proposal, but we often change them so all the projects will look great together in the collection. For Carkeek Park, we decided on using white for the body, with several shades of blue on the eye-catching yoke.
Next I send the pattern out to knitters (or crocheters, if it is a crochet pattern) to be knit up. These knitters create all of our beautiful samples, while sending frequent updates to me and the designer so we are all on the same page for the pattern. Sue, one of our longtime test knitters,  knit up Carkeek Park and sent photos for every step of the way.
After the sample comes back, the pattern goes to our tech editors and then off to Emily for the book layout.  While this is going on, Hannah works on getting a model and establishing a place to do the photoshoot. We try to make each collection look completely unique, so we use a variety of models and locations – all of our locations are local to Portland OR/Vancouver WA area, as are our models. For Garter Ridge, Hannah found a wonderful place at Fort Vancouver, with beautiful scenery that gives the collection a cohesive look.
Our photographer Amy takes all of the gorgesous photos for the collections, though Hannah took the above shots when scouting.
For models, we mainly use local agencies – although sometimes we'll use staff members and friends! Diana was our Garter Ridge model and she looked so lovely in all of the projects. For instance, here's the Carkeek Park Pullover all finished!
Once those are all done, the book is sent off to the printers and I work on making sure the collection is up and ready for you to see when it is released!
We are all very proud of our collections – what collections would you like to see next?