We've got a stunning new collection out today called Good Vibes & Groovy Lines, and with such a clear concept carried from moodboards to final layout, we thought this would be the perfect collection to use to share more information about how our collections are created! Our Creative Director Hillary joins hosts Lee and Stacey to discuss how the creative vision of a pattern collection is maintained from start to finish with so many contributors and collaborators as part of the process. They even share some tips for designers who'd like to contribute to future collections!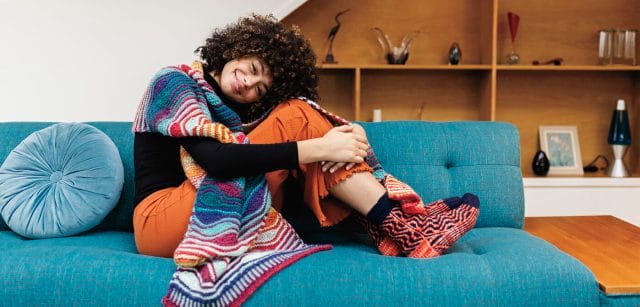 And we've got good news if you're in search of a summer KAL! We're hosting a KAL to all make the Ice Fire Wrap by Donielle Showvay from Good Vibes & Groovy Lines, and Lee and Stacey are joined by Producer Andi to discuss color choices and modifications that make it an easier knit for adventurous beginners. Visit the Knit Picks blog for more information and KAL updates.
Mentioned in the Episode
Lee's Me Made May Instagram story highlight
Good Vibes & Groovy Lines ebook
Hillary's graphic design website
Time Stamps
0:02 Welcome to the Knit Picks Podcast
3:03 Lee and Stacey share what they've been up to since our last episode.
10:07 We're hosting a KAL for the Ice Fire Wrap from Good Vibes & Groovy Lines!
13:56 The Ice Fire Wrap is an approachable knit, but there are some ways to make it even more beginner-friendly.
27:57 Our Creative Director Hillary joins Lee and Stacey to share a bit about her background and discuss our pattern collection process.
34:03 The secrets to what happens in the earliest phases of pattern conceptualization is revealed, using Good Vibes & Groovy Lines as an example.
37:36 After pattern idea submissions are sent in, the team picks patterns to accept, and Lee and Stacey share tips for designers on how to improve their chances of being accepted.
41:04 Designers do their magic, and Stacey chooses colors for the sample knits.
42:41 While the samples are being knit, Hillary begins planning the photoshoot styling, hiring models, and finding a photoshoot location.
48:04 Photoshoot day features a big team to get both inspirational and helpful photos and videos of the knits.
51:09 Lee begins working on editing and laying out patterns as soon as the patterns arrive, and after the photoshoot, she can complete the layout.
58:13 Team proofing is the final step!
60:58 Credits