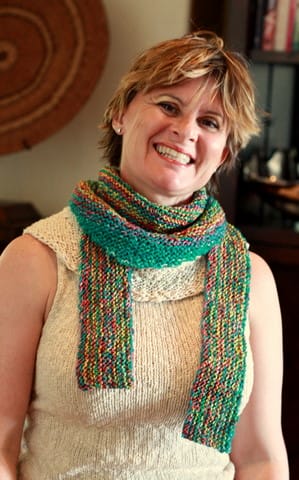 Can't pull the wool over your eyes!! Alright, I am so excited about this project that I have become slap-happy.
 Here's the story. A few of our Office Knitters volunteered to experiment with new approaches to dyeing and using our Bare Sock Blanks. The challenge was to dye a Bare Sock Blank, knit a project and, most importantly, share the details of the entire process!
It has been crazy around here! The best part is watching our little band of volunteers inspire other knitters in the office. When I brought in my dyed sock blanks to "share with the class", I recruited yet another knitter. Since I had one extra blank, Jenna was able to get started right away!
I chose to use Jacquard dyes because I am familiar with them and I had a good sized stash of color powders already at home. Yes, that means other knitters used other dye methods but you will have to wait for their stories.
As you can see, I dyed two Sock Blanks. I haven't been particularly thrilled with any of my other dye experiments. I've liked the results but I have never been enraptured. I used a new color inspiration method and dyed two blanks to hedge my bets in terms of success.
To my surprise, I've become a dyed sock blank groupie!! I actually squealed and giggled whooped and hollered as I laid the blanks out to dry and as I knit my scarves. The world went away as I spent all of my available time knitting and knitting and knitting. I couldn't stop!!
I already own two Shape-It Scarves from the first book in Sally Melville's Knitting Experience series – The Knit Stitch. Every single time I wear one of the scarves, I receive compliments all day long! Inspired by the comments, I tell myself, "You really knit some more of these!"
It turns out that Shape-It Scarves are perfect for hand dyed yarns. The pattern is deceptively simple and pleasantly quick to knit! I was able to go from cast-on to cast-off in just a couple of days. This was the result of manic knitting but you get the idea.
Each day this week,  I am going to share my adventures with you as I went from this…
…to this! 
Oh, we are going to have a lot of fun!