Sorry for the delay for this class! We had some technical difficulties – ah, gotta love technology 🙂 
So, without further ado, the video!
And now for some more info about the stitches. Here are some snapshots that will help closely illustrate some of the concepts I cover in the video – directional decreasing, yarnovers, and nupps vs. bobbles.
This is why charting is great! You can clearly see each charted stitch emerging in the knitted piece.
K2tog and SSK are opposite-leaning mirrors of each other, creating a nice directional look. A centered double decrease combines the two, removing two stitches.
A yarnover is created by making a stitch like you normally would – without going through an existing stitch first!

In a Double yarnover, do that same motion twice.

When working back over the double YO, work into the first loop as usual (whether knitting or purling). In this case, I'm purling.

And work into the back loop of the second YO.

No matter how many YOs you have, unless the pattern states otherwise, *(work into the front loop, work into the back loop), repeat from * across all loops of YOs. You could also (K1, P1), as the effect is the same. Either way, every other loop needs to be worked differently from the one before it. This keeps the whole string of YOs from falling apart. The only exception to this is when dropping loops or casting on more stitches into the YO than there are loops to work.
You'll get to see a lot more variation in your fabric as your YOs get bigger! (the laddering above the double YO is especially pronounced because of the tight gauge of this sample – it will be less so, but certainly still visible, in laceweight.)

So, why nupps and not bobbles?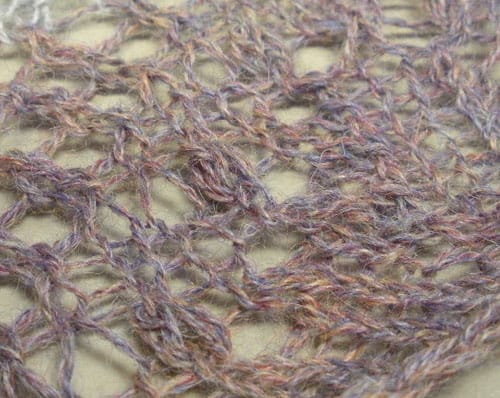 A nupp is a little extra yarn over the working row. A bobble is a small set of short rows that creates a raised area.

From the side, you can really see the difference!

Bobbles tend to be bulky and heavy, which is something you don't want in lace. They could potentially get caught on things or pull the patterning out of shape. Nupps are designed specifically for lace, to add a little weight and some opacity. Nupps are your friends!
Hopefully that answers some of your questions about stitches. Now, knit on!
Next week, for the final installment, I'll talk about blocking. Have questions? Ask away!