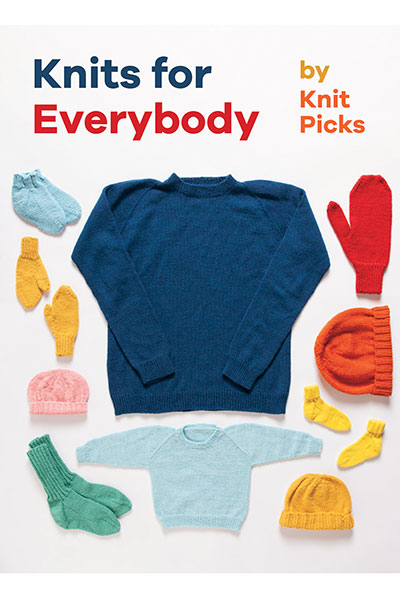 Our new Knits for Everybody pattern collection is our answer to any knitter's age-old quest for basic patterns that fit virtually everyone on their knitting list. No more scouring the internet or your library of books, this pattern collection has everything you need to knit simple hats, mittens, socks, slipper and pullover sweaters in both fingering and worsted weight yarns from newborn to men's XXL sizes. Pretty stellar, huh? Read on for more pictures and descriptions of each pattern!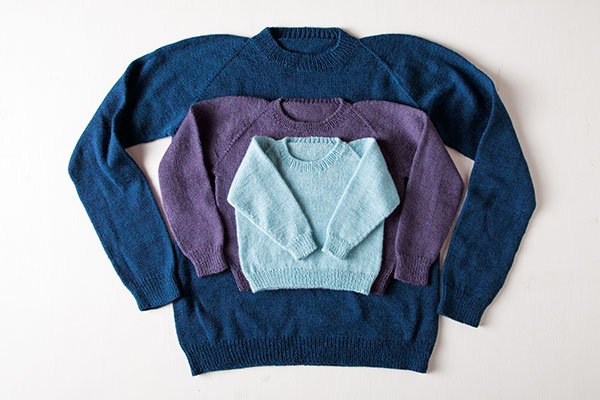 First up, our Knits for Everybody Sweater pattern in Stroll Fingering and Swish Worsted! This classic pullover is the perfect layering piece for any season. The lightweight fingering version is ideal for the warmer days of spring or early fall mornings while the worsted weight version is cozy enough for the chillier winter days.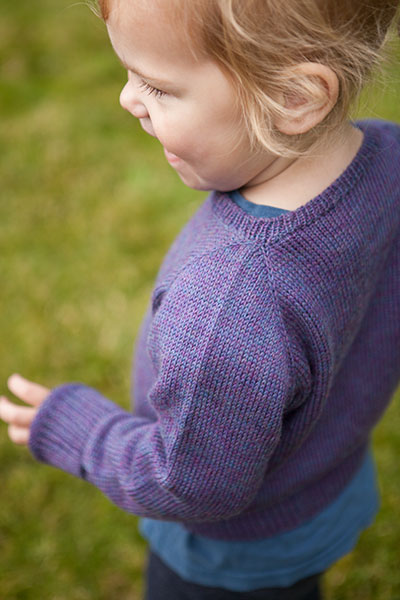 With clever, subtle short rows along the back for the perfect fit and increases running along the shoulders these sweaters  are a breeze to knit and a joy to wear.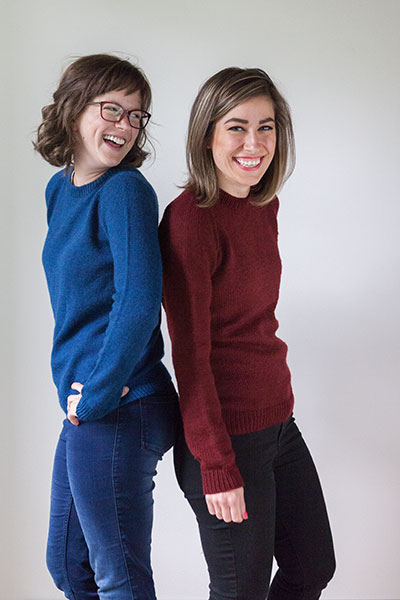 We knit the fingering weight (blue) sample without waist shaping and the (red) worsted weight sweater with waist shaping. The waist shaping is optional which means you can knit a pullover with a relaxed fit or a curve-hugger to suit your style!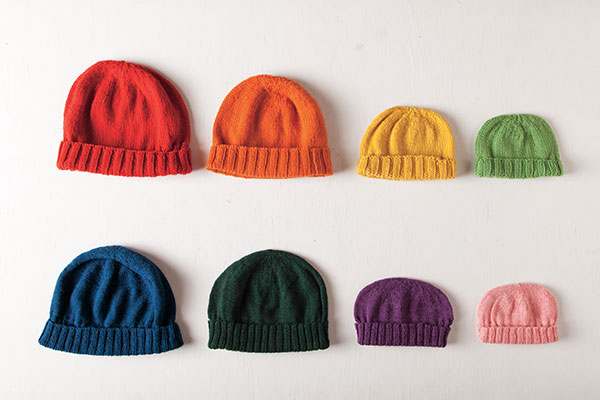 Next up, our basic Knits for Everybody Hats! Knit in Stroll Fingering and Swish Worsted: these beanies fit preemies to large adult head circumferences.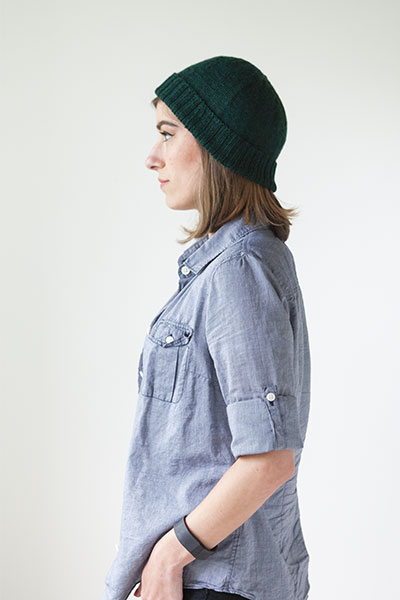 Both weights are meant to be worn cuffed, and have a snug fit.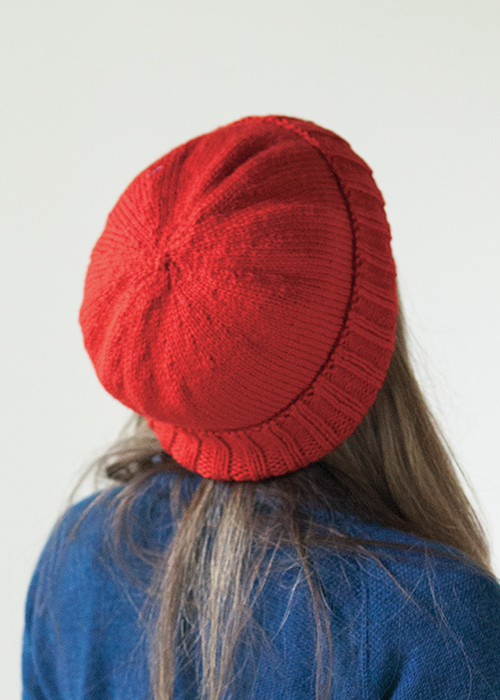 Subtle decreases shape the crown of each version creating a nice, round top. Add a pompom or stripes for a customized look!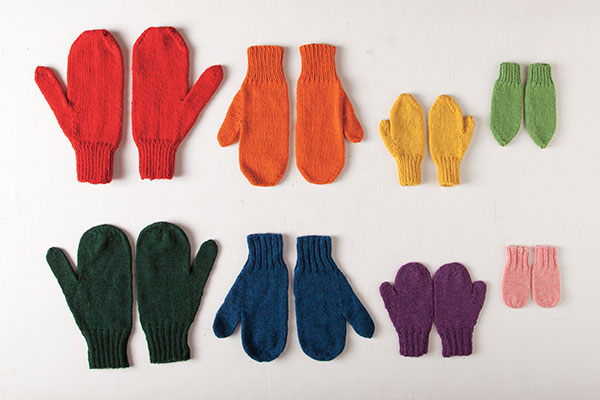 Next, these Knits for Everybody Mittens are sure to become your go-to mitten template for all your gift knits this season! From baby all the way up to adult large men's hand circumference, we've got you covered. I love the idea of knitting a rainbow of mittens for the whole family or adding cute details like big sections of color for a "dipped" effect, stripes, basic colorwork or different colored cuffs for a little flair!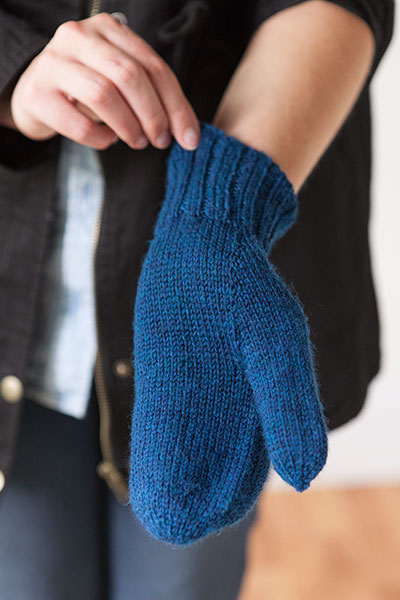 The traditional simplicity of these mittens make them the perfect blank canvas for whatever strikes your fancy.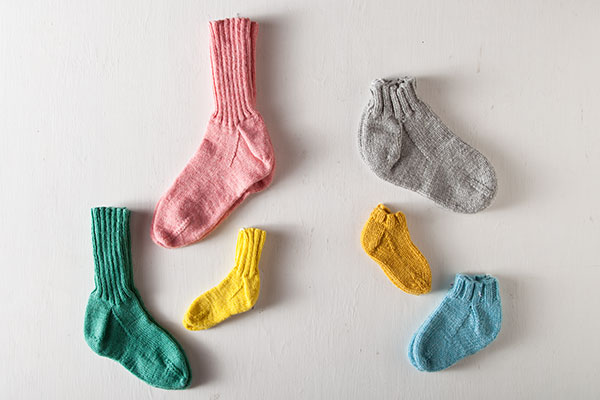 Lastly, our Knits for Everybody Socks and Slipper pattern has become an office favorite. Easily customizable with different toe and cuff colors, stripes, or use a stitch dictionary to add some subtle texture to the top of each foot for a unique pair for each person.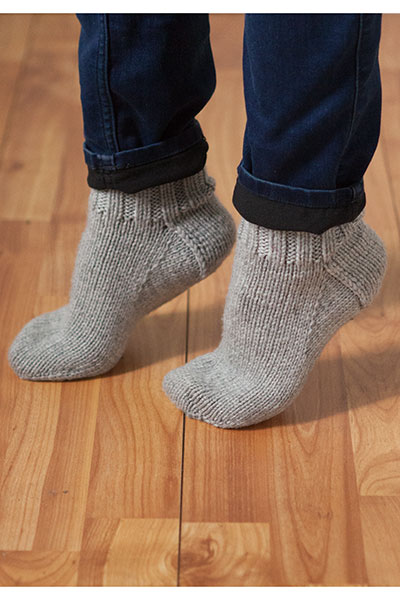 The worsted weight versions are too bulky to wear with regular shoes but are the perfect weight for wearing on their own around the house. While the slippers feature a short cuff for an "anklet" fit, the fingering weight sock pattern has a full, ribbed cuff that tuck neatly under pant cuffs.
Whether you're a seasoned knitter looking for a basic, go-to pattern or starting to experiment with projects more challenging than the basic scarf, these patterns will quickly earn a place in the heart of your knitting queue. And, you're in luck! We're just starting our book sale so you can snap up your own copy for 40% off the regular price! Grab one for yourself and another one for your favorite knitter during the sale for hours of knitting inspiration.
Save
Save