We're always excited when it's time for more Felici! In this post, we will share some (mostly) non-sock projects made with Felici—in both fingering and worsted weights.
This fall, we released our self-striping yarn in customer favorite colorways from the archives. And in case you missed it, we also released Felici in Worsted Weight (by popular request)!
Felici sock yarn is a fan favorite, and with good reason. Our self-striping yarn is spun with super-duper soft superwash Merino combined with nylon to give it the strength and softness to stand up to hard-wearing accessories like socks. But you can make much more than socks with Felici!
But First, the Socks
Okay, yes, you can make more than socks with Felici, but first we just have to get this out of the way: SOCKS!
This is Manipulative, a sock pattern by Katie Poe. This version was made by Ravelry user konayossie, using retired colorways of Felici (Mountain Mist and Captain Nemo). Are you not INSPIRED?
We thought you'd like to get a look at what Felici Worsted looks like knitted up as socks. These were all made by Ravelry user Mommajnine: Rustic Cabin Socks, Lost Lake Socks, and Time Traveler Socks. What do you think? They look pretty nice and squishy to us!
You might also enjoy: Behind the Felici: Fans & Designers' Dream Colorways
What else can you make from Felici?
We all know Felici is great for socks, but what else have crafters been making with Felici? Well, they've been making sweaters, for starters!
Ravelry user Vyndree (also @vyndreemadethis on Instagram), has been busy knitting up the cutest little sweaters for the cutest little people. Above, Harvest, knitted from Felici Worsted in Punch Bug. This pattern is by tincanknits.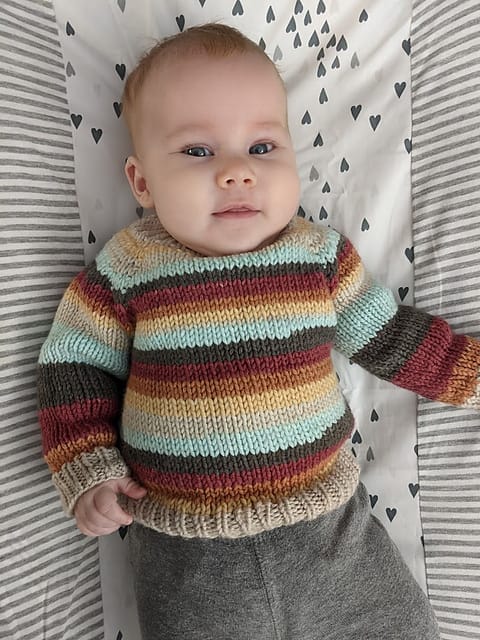 And little Alexandria models another adorable sweater: Flax made in Felici Worsted (Rustic Cabin), knitted by Vyndree on Ravelry. This pattern is also by tincanknits.
And another great little sweater by Vyndree: a Little Worsted Sock Arms, made of Felici Worsted (Rustic Cabin) for the arms, paired with Swish Worsted for the body. This pattern is by Stephanie Lotven.
You might also enjoy: Knit Picks Podcast Episode 259: Fantastic Felici
Felici Ornaments + Toys
Since we're close to the holidays, it seems obvious, but 'tis the season to turn Felici into ornaments (or other winter decorations), or knit colorful toys.
Ravelry user Konayossie knitted these adorable star ornaments from a retired Felici colorway (Spring Blooms), using pattern Stjärna by Karolina Eckerdal.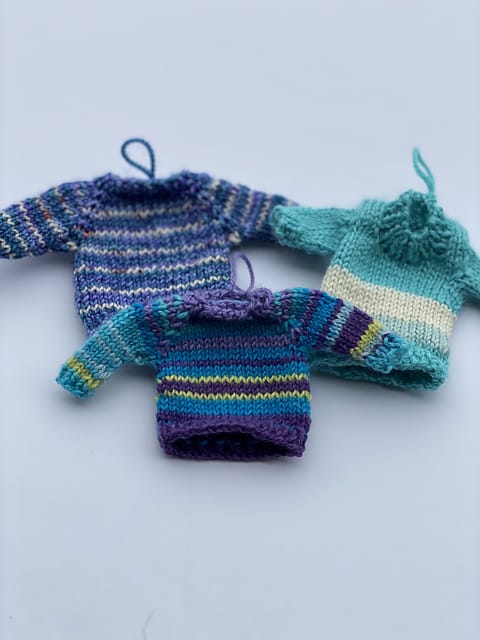 Konayossie also made these wee sweaters from Felici scraps (and some bonus Hawthorne scraps), perfect for putting on a holiday wreath or tree. Pattern is Mini Sweater Ornament with Cables by Emily5446.
Felici is perfect for incorporating color into your winter decor, if you gnome what we mean. This little fella was knitted by Ravelry user LaDiDa2u, using the pattern Never Not Gnoming by Sarah Schira.
For this charming Nilla the Unicorn, Ravelry user dlgray31 used Brava to knit Nilla's body, then used Felici Worsted in Rainbow for a luxurious candy-colored mane and tail. The pattern is Nilla the Unicorn by Rachel Borello Carroll.
You might also enjoy: Behind the Scenes, How We Develop Felici
All the Felici Hats
Felici is great for hats, especially when used for colorwork like in this one:
Rachel Luxemburg made the Ballot Box Beanie using Felici Worsted in Rainbow, paired with a dark gray-black worsted yarn to contrast. This pattern is Ballot Box Beanie by Jane Murison.
Rachel also cleverly alternated Felici Worsted line by line with a solid yarn to make this simple, but effective colorwork hat.
This I Heart Rainbows hat was made by Ravelry user LaDiDa2u. We love the effortless style that is achieved by just letting Felici do its thing against a solid background. Pattern is i heart rainbows hat by tincanknits.
Felici for Happy Accessories
Felici is a great fit for making happy accessories. Check these out:
Rebecca Tsai has knitted some beautiful Felici goods, including these simply adorable Totoro mitts paired cleverly with cream yarn to extend the striping in Felici (Punky). There is no pattern for this, but you can check out Rebecca's Knit Picks designs as well as her Ravelry designer page.
This intriguing cowl pattern is a cloud of bats by Laura Aylor, and this version is by Ravelry user elaysee, using Felici Worsted in Rustic Cabin. Here's a flat shot so you can see the pretty texture:
We just love how the colors of Felici interact in this intriguing pattern. Elaysee used two skeins simultaneously, strategically timing the color to change after half a repeat, which creates this satisfying gradient.
Of course, you can also crochet with Felici, but you knew that! We love this Felici-fied version of the Dissent Cowl, made by Ravelry user MaggieSqrl using Felici Worsted in Wizard (a retired color). This pattern is Dissent Cowl (crochet) by Carissa Browning, but there's also a knit version of this pattern as well!
So what are you waiting for? This crop of Felici is limited, and when it's gone, it's gone! What will you make from your Felici Sock Yarn and Felici Worsted?