When we first started putting together Reclaimed, Addison by Thayer Preece immediately caught my eye. Rather unusual for me, since I rarely wear dresses (jeans & occasionally a skirt are pretty much my usual clothing choices) and most of my time, cardigans are my go to choice for knitted garments. Still, I kept coming back to it.  When I was writing about Reclaimedfor the blog, I finally decided I needed to make it.
And this weekend I finished it!  Perfect timing too – while the fall so far has been mild & warmish, the weather yesterday turned very cold but still sunny & clear.  So I grabbed Jenny K to shoot a few shots in front of one of our colorful trees.
I used our new Wool of the Andes Superwash in Cobblestone Heather and Aurora Heather for my version and I'm very pleased with how it turned out.  Aurora Heather is my favorite color and I love how it looks with the dark grey of Cobblestone.
When I mentioned I was thinking about making it, some folks balked at all the stockinette but I was perfectly fine with it – it was perfect for both working on it during a couple of road trips as well as when I was just lounging on my couch watching my beloved Red Sox play in post season baseball.
And I love the stripes!  I'm always drawn to stripey things and this particular striping pattern is what first caught my eye.  I like how it is continued on the sleeves as well, just a nice little detail.  The only change I made was to lengthen it a bit (I'm 5'11" so I have to do that with a lot of patterns) but otherwise I followed this well written pattern exactly.
I'm sure I'll get a lot of wear out of it in the coming months – I think it looks great over leggings to keep me warm when I want something a little bit dressier for a night out.
Do you like knitted dresses?  We actually have several on the site that I think are lovely – for instance, also in Reclaimed is the Straight A Dress by Sparrow Kelley.  The neat construction and color details in Empire State of Mind by April Reis is also very fun.  Finally, the model for Margaret L.Thompson's Marianne Dress looks so happy in her outfit, it immediately makes me want to make my own version (it's also in Comfy Sport, so it would be nice when you don't necessarily want a wool dress).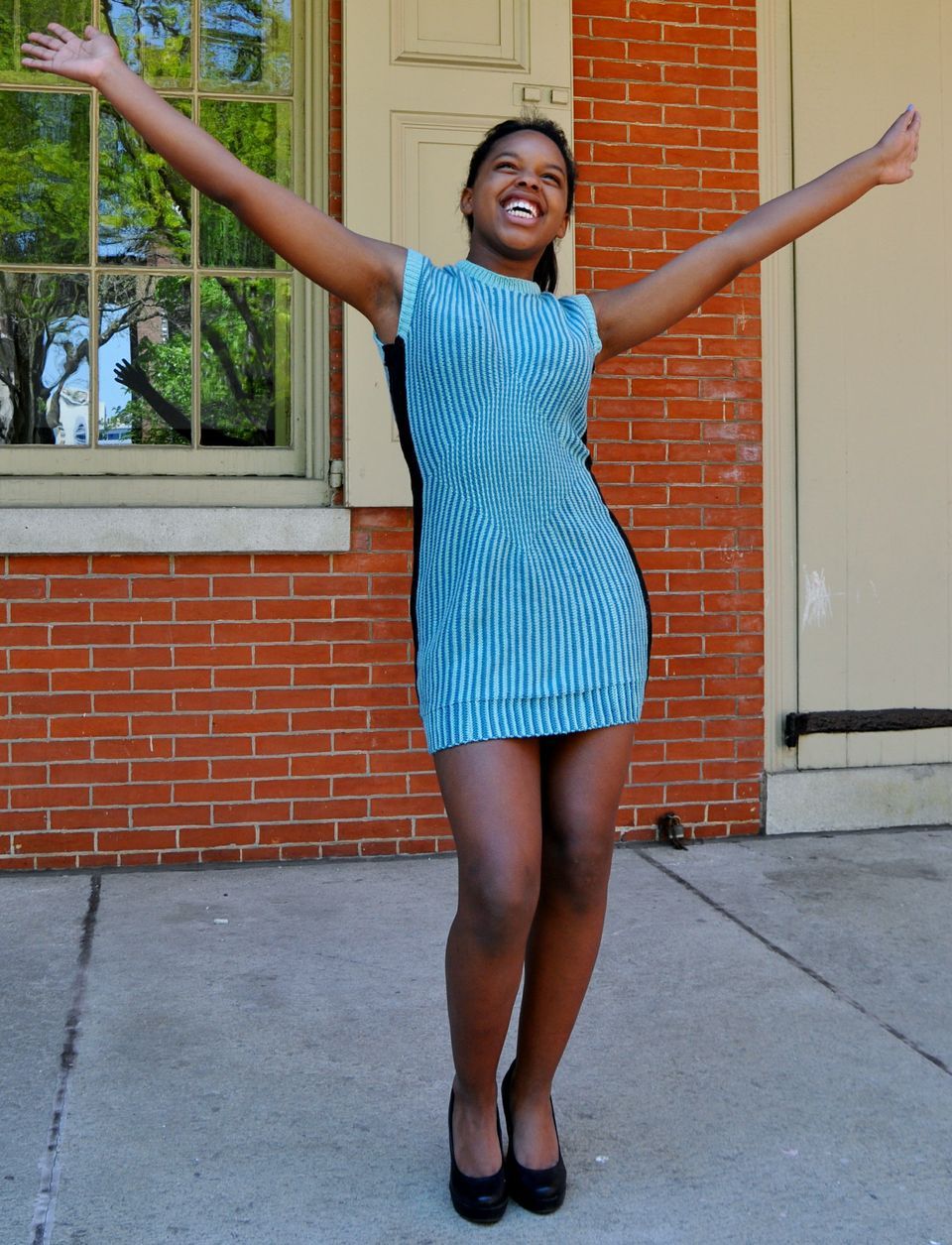 Now I need to decide my next big project – another dress or back to my usual cardigans!