I loved knitting with the springy, wooly goodness of Simply Wool for the first time! I'm so used to Wool of the Andes Superwash as my go-to worsted weight yarn but I'm truly a convert to our new line. I always reach for natural, undyed worsted wool before other colors and I love all the browns and greys in these happy hanks.
Simply Wool has all the squish of my favorite wools without the scratchiness. Each stitch felt so good that I actually regret how quickly this project worked up. In case you weren't sure, I want to re-emphasize that I knit a worsted wool sweater in Portland during one of our hottest summers and loved every minute. Seriously. Get thee to some Simply Wool, you won't regret it.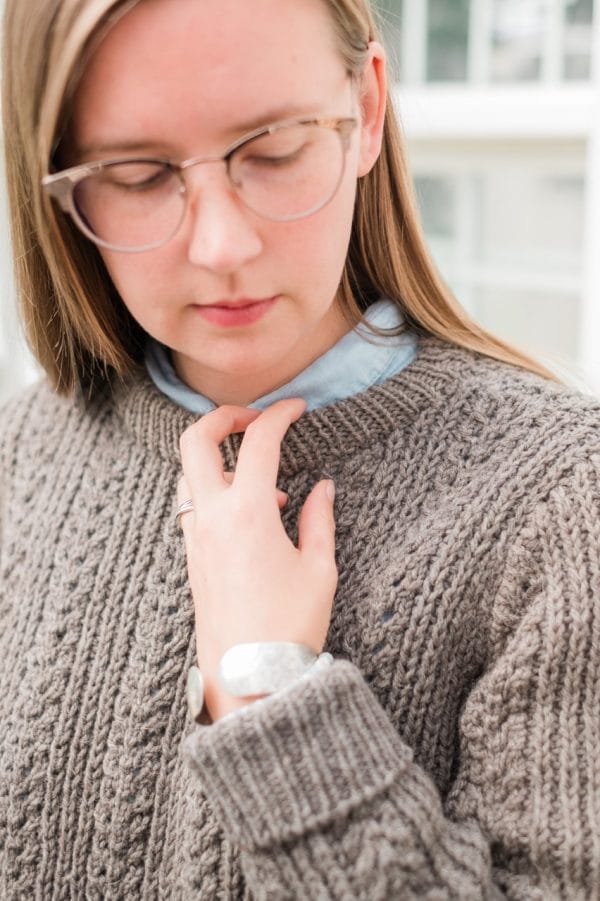 When summer started, I planned on taking a short sabbatical from knitting (feel free to laugh all you'd like). Obviously, I lasted all of two weeks before diving in to a sweater quantity of Simply Wool Worsted! Five skeins in Wordsworth mysteriously (ahem) found their way into my knitting tote along with Julie Hoover's fabulous Docklight pullover pattern and I simply couldn't help myself.
I made two mods to this pattern: the first was to extend the sleeves which I actually didn't need to do! Next time I'll leave them as-is. I also worked a Fisherman's Rib instead of Brioche which made the whole project much faster while maintaining the extra squishy ribbed fabric. For reference, I'm 5′,7″ with a 35″ bust and I knit up a size 40″ with zero complaints! It's the perfect size to slip easily over collard shirts without any of the extra fabric of sweaters with too much positive ease.
Some of you may remember that I made a New Years resolution, way back when, vowing to learn Brioche. Fast forward to today and I still just cannot with that stitch! Luckily, I've found that Fisherman's rib is less fiddly and a perfectly adequate substitute for single color brioche. I'm sure there are some minor differences but I get the right gauge with this alternate stitch and, to me, it looks nearly identical. Feel free to let the fur fly in the comments, I'd loved to be schooled! Maybe that will finally be the nudge I need to hunker down and actually learn it. Maybe.