This past Saturday the Knit Picks staff celebrated World Wide Knit In Public Day 2017 with an event at Overlook Park in Portland, OR. We invited our local customers and their friends to join us for an afternoon of making friends and enjoying our favorite hobbies. We were delighted to welcome over 100 Knit Picks fans to our Knit Pick-nic!
Knit Picks Yarn Tasting
One of the most fun parts of our day was a "yarn tasting." We brought several of our most recent yarns for customers to touch, feel, and see finished projects: Chroma Twist, Luminance, Stroll Gradient, and Wonderfluff. Can I just tell you how much our staff enjoyed "nerding out" and talking about our yarn all day?!

New Collection Sneak Peek
Knit Pick-nic attendees were treated to a sneak peek of one of our upcoming pattern collections. Don't tell anyone, but I'm going to share it with you too! Shawls for All will be released later this week (Note: the links won't work until 6/14/17 when Shawls for All is released), and it is FABULOUS. This collection teaches the basics of shawl making, in a choose-your-own adventure sort of way. Designed and written by Joyce Fassbender, Shawls for All features 2 yarn weights, 6 shawl shapes, 12 stitch patterns, 6 edge patterns, and 3 bind off methods. You will not want to miss out on this book!
What's on your Needles?
My favorite part of the event was wandering around and chatting with customers. I loved looking at everyone's projects and hearing about what they have on their needles. You can see a little interview I did with a fun group of ladies here:
Designer Spotlight
We invited two of our Knit Picks design team members to show off their projects at our Knit in Public 2017 event. Attendees were able to chat with designers Michele Lee Bernstein and Emily Kinitgh. Both are regular contributors to our pattern collections and IDP program.
And the winners are…
Every attendee was given a raffle ticket and got to choose from 3 prize packages to enter to win. The drawing is always the  most exciting part of the event, as you can see here:
Making Friends
WWKIP started in 2005 as a way for knitters to come together and enjoy each other's company. From founder Danielle Landes: "Knitting is such a solitary act that it's easy to knit alone somewhere and sink into your work without thinking about all the other knitters out there. Neighbors could spend all their lives never knowing that the other knits. This is a specific day to get out of your house and go to a local event (with your knitting in tow) just for people like you." The photo below perfectly captured the spirit of our Knit Pick-nic. Although the prizes and sneak peeks and free yarn was awesome, what attendees really loved most was simply being around like-minded people, sharing something we all love.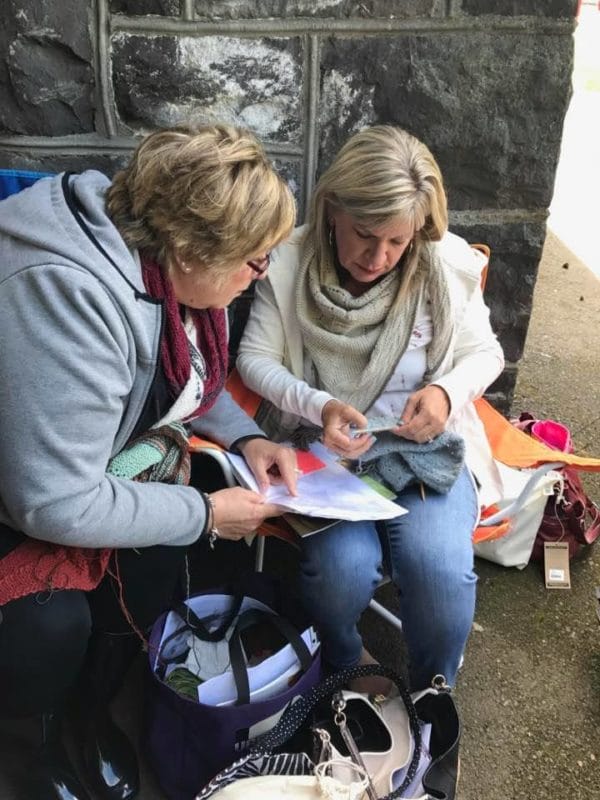 "I get by with a little help from my friends…."
Mark your calendar!
World Wide Knit In Public Day is the second Saturday in June, so mark you calendars for June 9, 2018. We will host another Knit Pick-nic, and hope to see you there! If you live in the greater Portland, OR or Vancouver, WA area you will receive an email invitation prior to the event. To make sure you receive your invite, sign up for our email list HERE! We also post the event on our Facebook and Instagram pages.
We look forward to seeing friends – and making new ones – at next year's event!
Save
Save
Save